MARE @ WHAT DESIGN CAN DO
As you may have noticed on our social channels, we attended the 'What Design Can Do' conference in Amsterdam last week. WDCD believes that the power of design and creativity can transform society and we couldn't agree more! Through a diverse program with a variety of keynotes and workshops, we immersed ourselves in the world of design and what it can do to improve sustainability, facilitate activism and enhance social interactions, amongst other things. In the next two weeks we'll let you experience the conference through our eyes, sharing insight in what we deem most relevant. Enjoy!
Workshop: Constructive digital innovation
The 'Constructive digital innovation' workshop was based on the fact that many digital innovations are designed to contribute to our daily lives, but often aspects like privacy, our environment, social and ethical consequences are not taken into account in the design process. During the workshop we explored which rules to apply, to allow for innovations leading to preferable futures.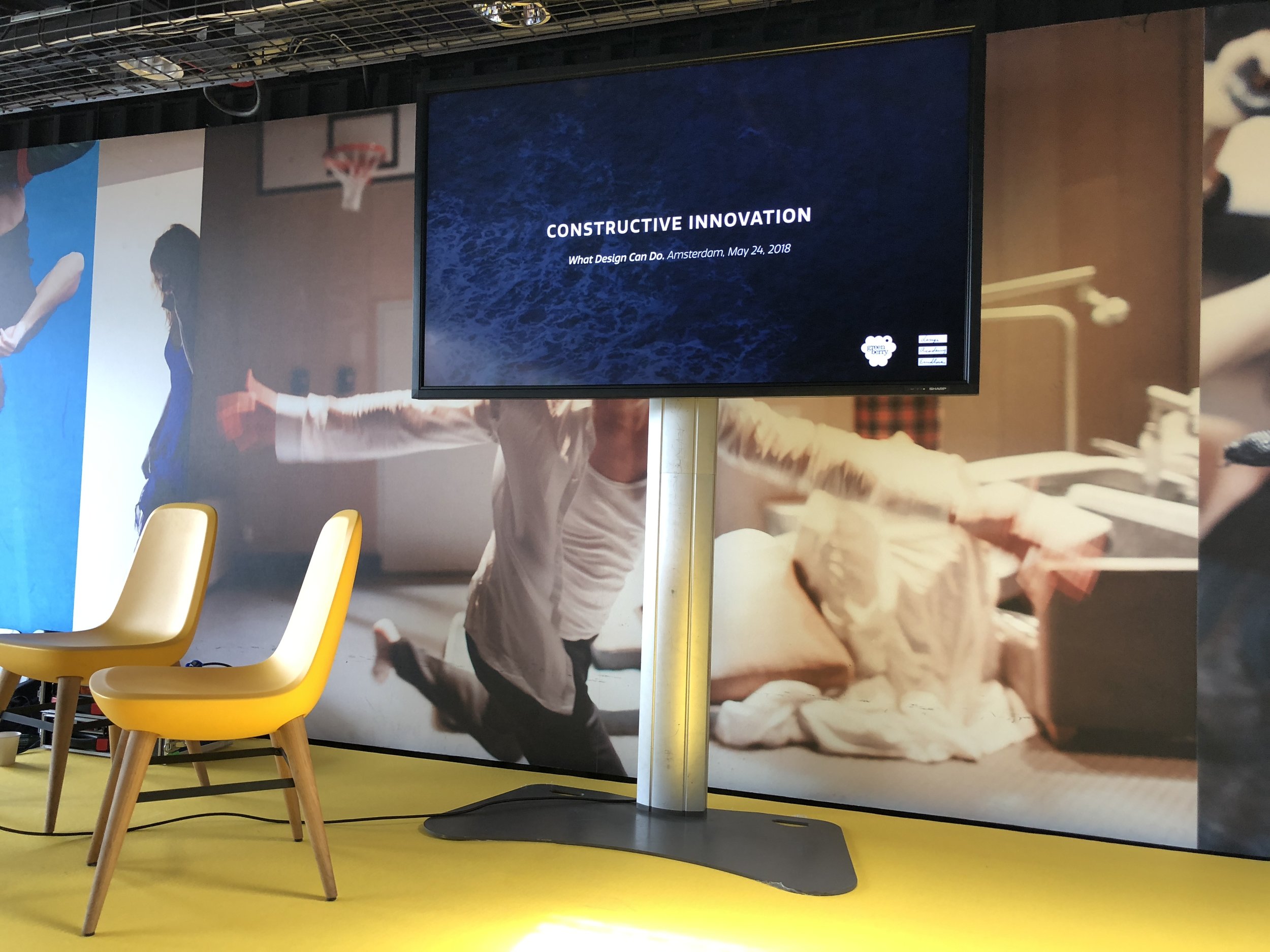 Each group was assigned a future scenario created by a graduate from the Design Academy of Eindhoven. Within our group we were ought to discuss if our future scenario was a preferable one and if not, which rules we could apply to do make it preferable. At the end of the session we evaluated our rules together and the most important ones were the following:
Each new product should have a minimum viable and ethical level of responsibility. One way of achieving this is to appoint chief ethical officers next to technical officers.
Debate whether or not an innovation is responsible together with various kinds of specialists like law experts, innovation adepts, trend researchers and designers.
Human centered innovation is key when designing for preferred futures, because connecting people, data and knowledge is the next big challenge that's upon us all.
In our future scenario a new car feature was introduced, the car chat. Car chat basically works like Tinder, but the difference being you chat with a live hologram that's seated in the passenger seat next to you. We generally agreed that this could be a fun feature, given that we'd have self-driving cars by then. The rules we came up with to inject value beyond fun? There would have to be some kind of digital car police, preventing things like (child) pornography and hackers getting into your car. Human centered how? Well, car chat could be a great way to alleviate that nagging feeling of slowly dying in your car during traffic (a.k.a. road rage), especially in a self-driven car.
If you'd like to get some visual clues as to what the fair was all about, make sure to check out our short and snappy impression of what the ambience was like.
Next up: A keynote speaker who found a way to revolutionize the way we recycle plastics. Stay tuned!